Written by Roodabeh Dehghani, PhD candidate, L'Université d'Ottawa/University of Ottawa

Since the death of Mahsa (Jina) Amini in September 2022, much has been said and written about the protests in Iran. Amini died while in the custody of Iran's morality police. She was arrested for supposedly wearing her hijab incorrectly.
Her death triggered widespread protests against the morality police, the government and a host of other issues facing the country. A recurrent theme of discussion surrounding the protest movement has focused on its so-called secular nature.
Why 'secularism' is problematic
In December 2022 TIME magazine published a piece written by Iranian-American writer Azadeh Moaveni who characterized the uprising in Iran as educated, liberal and secular. Other commentators have pointed out that protesters have not used religious slogans. This differentiates this protest movement from previous ones. It is secular in nature and therefore, historically significant.
In January 2023 I attended a symposium at the University of Toronto called Women, Life, Liberty: Iran's democratic future in which the protests were described by some commentators as secular. For example, in one of the panels called A Charter of Rights for a Democratic and Pluralistic Iran, secularism was described as one of the common demands of the Iranian people whether they joined the street protests or not.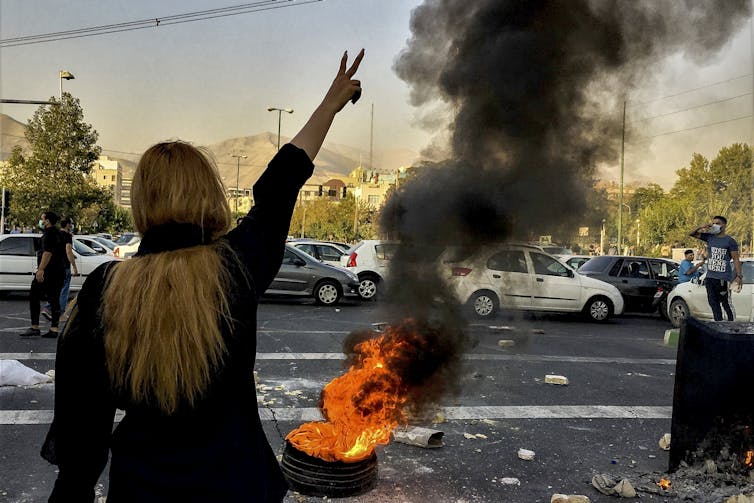 These kinds of statements are meant to demonstrate the extent to which the political regime is rejected by Iranians. The assumption underpinning this narrative is that the government's ideology stands in opposition to the secular views of most Iranians.
One of the most important, and challenging, narratives on secularism is the belief that European secularism is a global tendency, and that secularism is incompatible with religion.
In the West, secularism is closely tied to the removal of religion from public spaces, and the decline in its influence on social and behavioural practices. For example, in France, the government has created a new Forum on Islam to reshape Islam in the country. The forum is made up of Muslim figures handpicked by the government. Examples like these are not about a separation of the state from religion. Rather they are about increasing the state's control over religion and religious institutions.
However, using the term secularism, especially in this sense, does not necessarily help us understand what is happening in Iran today. These narratives are often based on conventional meaning of secularism. Consequently, they do not necessarily resonate well with the views and demands of Iranian people.
Rejecting state control of religion
The protests in Iran are about rejecting the state's regulation of religiosity in public life, and not about rejecting religion in Iranian society.
Narratives that put secularism against religiosity contrast with the images and chants that have emerged from the protests in Iran. In November 2022 one video clip from the protests showed women in chadors marching on the streets chanting "Go ahead for revolution with or without hijab." Western conceptions of secularism cannot explain images of chador-wearing women taking part in protests against the Iranian government.
But views on secularism in Iran vary considerably. Political scientist Nader Hashemi argues that the desire for secularism has emerged within the civil society among intellectuals, Iranian youth and the urban middle class who are disillusioned with the government.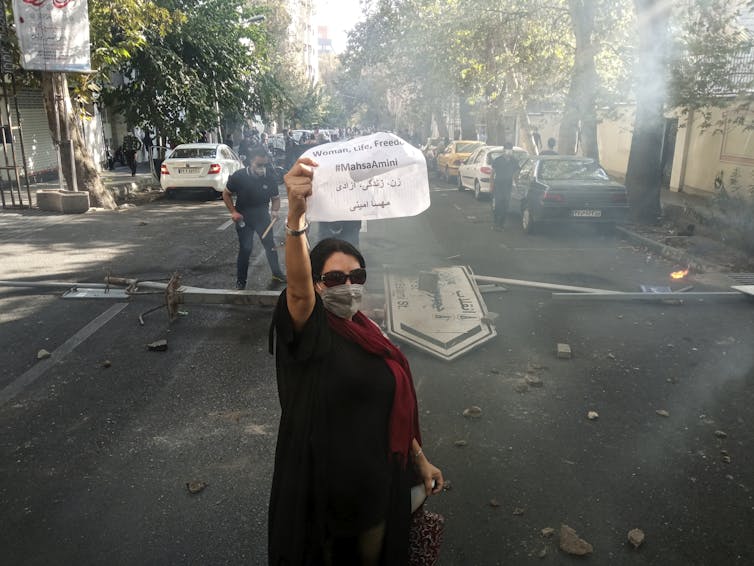 Iranian-American writer Dina Nayeri and others have argued that there is a decline of religious beliefs and practices among Iranians. In other words, that Iran is undergoing a process of secularization.
On the other hand, sociologist Abdolmohammad Kazemipur suggested that the state has gone through a secularization process for pragmatic reasons. He states that in post-revolution Iran, the state itself has moved to a more secular political philosophy as a pragmatic response to political pressures.
The types of people and groups that have been involved in the protests suggest that the movement transcends debates around secularism versus religion. The protests were sparked by the morality police's treatment of Amini. But many other issues have been raised by protesters including corruption, alarming unemployment, failed international policies and oppression of minorities.
Protests have also taken place in Sistan and Baluchestan, a southeastern province populated by many Sunnis. Those protests have received support from the local Sunni Imam Molavi Abdolhamid.
A recent study shows considerable change in Iranians' religiosity. Around 40 per cent of the participants still self-identified as Muslim and 78 per cent said they believed in God. The study also showed that 72 per cent of participants are against mandatory hijab laws.
Religion still remains an important dimension of Iranian life. And religious segments of Iranian society have been expressing their solidarity with the protests.
How can we make sense of these facts about the situation in Iran? Secularism as a label cannot fully explain the ongoing situation in Iran. Instead, the protest movement in Iran is a rejection of the state's control over how people express their religious beliefs.
This article is republished from The Conversation under a Creative Commons license. Read the original article.